Connect Broadband in Chandigarh Mohali Panchkula
Call now @ 9815269973 to Book Your High Speed Broadband Connection
In the last two decades, Connect broadband Service in Chandigarh Mohali has been the best pioneer in offering the most reliable broadband services at affordable price. To access internet connection of higher upload / download speed you need highly reliable broadband connection. And mostly 'Connect Broadband' is the first suggestion for Chandigarh, Mohali ,Panchkula & all Punjab.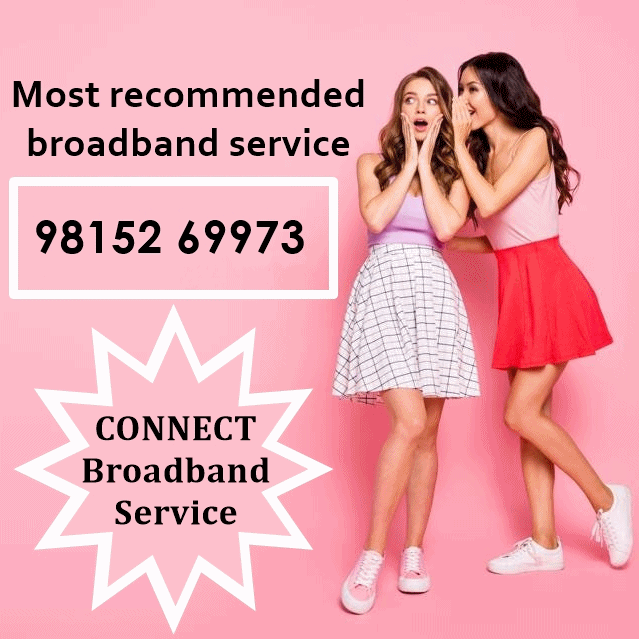 From accessing unlimited voice data to the surfing the Internet at a very fast speed up to 300 Mbps in Chandigarh, there's no one better than CONNECT broadband connection. Our wide client-age and prolonged reputation just make us the top most option for getting the Internet services in Chandigarh & Punjab. Connect broadband holds around 1,00,000+ happy customers, who are enjoying our fiber internet services. Know about Connect broadband fiber net services are available in Chandigarh, Panchkula Zirakpur, Kharar, Mohali. Check here all unlimited packs / fiber internet tariffs for home or business use. Best wifi broadband connection which is affordable and economic. Connect broadband connection offers you offer more data at high internet speed.
कनेक्ट ब्रॉडबैंड : चंडीगढ़ मोहाली पंचकुला जीरकपुर खरड में नया ब्रॉडबैंड कनेक्शन प्राप्त करें | सबसे अच्छी इंटरनेट सेवा – जानिए अनलिमिटेड फाइबर ब्रॉडबैंड प्लान्स | अपने घर और कार्यस्थल के लिए कनेक्ट ब्रॉडबैंड कनेक्शन प्राप्त करें | वाई फाई इंटरनेट बरोडबैंड लगवाएं |
Moving onto our resources, then our experts are always available to serve you the most suitable Connect broadband plans for both residential and commercial purposes and which can be customized according to your needs as well. That's a definitive hands-on guide to internet access for every home and small business user in Chandigarh, Panchkula Zirakpur, Kharar and Mohali, realms.
ਕਨੈਕਟ ਬ੍ਰਾਡਬੈਂਡ ਇੰਟਰਨੈੱਟ ਸੇਵਾ : ਚੰਡੀਗੜ੍ਹ ਮੋਹਾਲੀ ਪੰਚਕੂਲਾ ਜ਼ੀਰਕਪੁਰ ਤੇ ਖਰੜ ਵਿੱਚ ਨਵਾਂ ਬਰਾਡਬੈਂਡ ਕਨੈਕਸ਼ਨ ਪ੍ਰਾਪਤ ਕਰੋ | ਵਧੀਆ ਇੰਟਰਨੈਟ ਸੇਵਾ - ਅਣਲਿਮਿਟੇਡ ਫਾਈਬਰ ਬਰਾਡਬੈਂਡ ਪਲਾਨ ਜਾਣੋ | 
ਵਾਈ-ਫਾਈ ਇੰਟਰਨੈੱਟ ਬਰਾਡਬੈਂਡ ਲਗਵਾਓ | ਆਪਣੇ ਘਰ ਅਤੇ ਕੰਮ ਲਈ ਨਵਾਂ ਕਨੈਕਟ ਬਰਾਡਬੈਂਡ ਕਨੈਕਸ਼ਨ ਪ੍ਰਾਪਤ ਕਰੋ।
Last but not the least, our motto lies in delivering the absolute capability to our lovely clients so that they can communicate, learn and collaborate with any corner of the world. Choosing Connection of Connect broadband Mohali, Chandigarh or Panchkula will serve you many features like:
Affordability
Reliability
Flexibility
24X7 customer support
Unlimited voice & data
Matchless internet speed
So what are you waiting for? Be a part of this highly-connected world with best Connect Broadband services in Tri-city and start connecting today! To know more, request a callback on 9815269973.
Connect Broadband Plans in Chandigarh Mohali & Panchkula
Have a look on latest revised plans of Connect broadband services for Mohali, Chandigarh Panchkula Kharar Zirakpur & Derabassi. Available from a choice of internet providers. See how Connect fibre broadband connection is loaded with more features. Select from a choice of various unlimited data plans, offering high speed connectivity at reasonable and competitive cost.
---
Our team solve all your queries about connect broadband connection in Panchkula, Chandigarh, Mohali & surrounding areas. You can ask us for an e-Pamphlet of all these latest connect broadband plans, through e-mail or what's app. CONNECT broadband services have invested heavily in optical fiber broadband networks designed to provide ultra-fast internet speed. Connect Broadband is providing its fiber internet services at Chandigarh, Mohali, Panchkula, Kharar and Zirakpur.
Thanks.